We are currently doing research for the Design direction of Red Bulb Cafe. Came across an interesting article relating how : The late Victorians had a different attitude towards light bulbs than we do today. To them an exposed light bulb looked stylish and modern, to us it's a symbol of decrepitude and poorness. We hide light bulbs behind shades and diffusers. The Victorians liked to show them off. Here is a fine example – an expensive-looking gilded chandelier in Grand Central topped off with exposed light bulbs.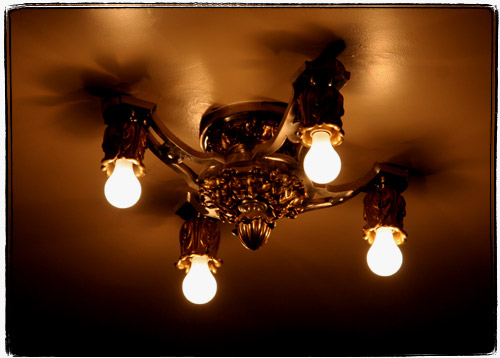 Victorian kitchens often had the simplest of light fixtures – a light bulb on a pretty woven cord, like this one sold by Rejuvenation Hardware. The also sell an amazingly cool looking replica Edison light bulb to go with it.
It is pretty interesting … that Red Bulb's first Cafe may end up being located in a Victorian Building circa 1886. We will be taking cues from this relationship for sure. I'm thinking reclaimed wood elements with industrial cast-iron black accents, modern red mosaics and … exposed light bulbs !